Smart Cruising Assist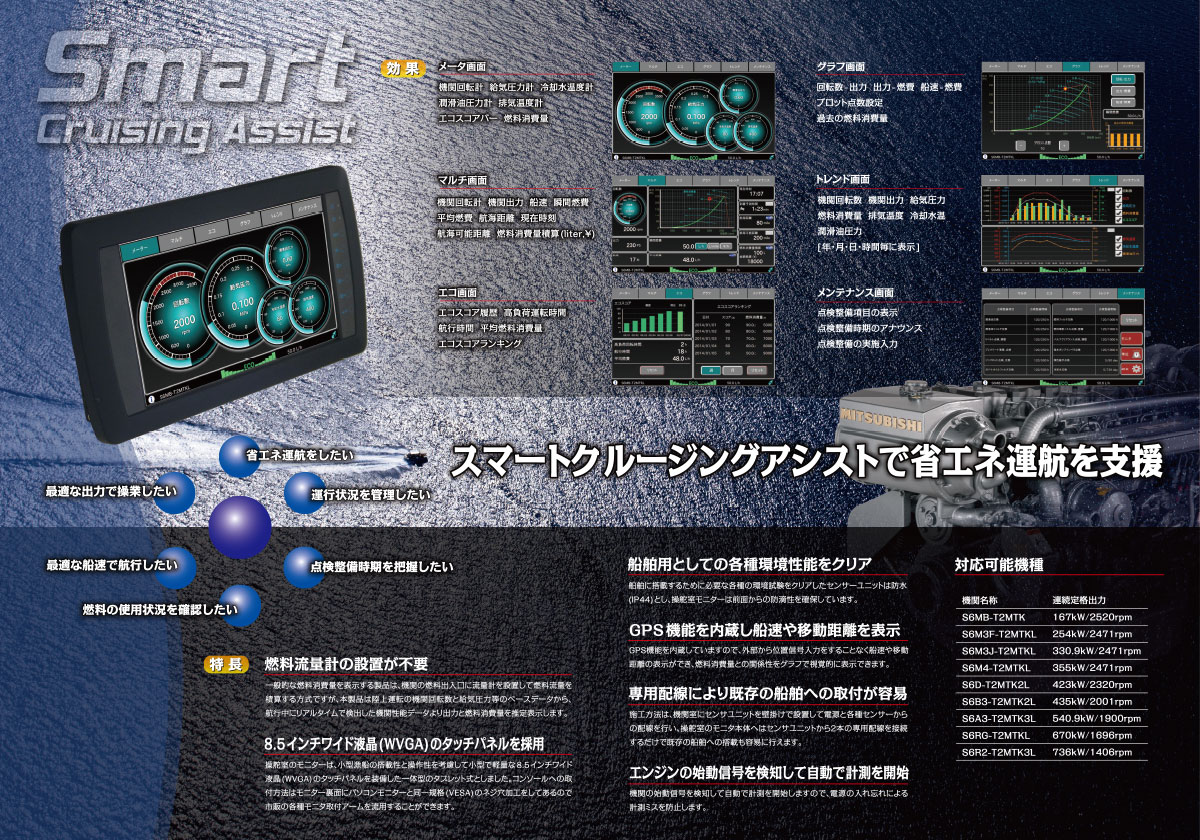 Product Description
The mileage of the ship's engine is displayed in an easy-to-understand graphic targeting the visualization of fuel efficiency, and can be operated with a touch panel. An innovative system that can store data in the built-in SSD and expand the land-shore communication and wireless communication functions.
Development Background
While visualization of the fuel efficiency of ships has attracted attention as a part of environmental measures, a major engine manufacturer has requested development. With this product, we decided to break away from the traditional analog system image and develop it in order to prove that we can provide enough in the field of digital display. For several years, he finally brought it to the market by incorporating the experience of the shipowner, fusing the engine and software, and designing a highly visible graphic. It will be indispensable equipment for next-generation ships in the future, and ship owners will be able to manage ships more easily and contribute to the environment.
Characteristic
Installed in the engine room and wheelhouse of the ship. The current fuel efficiency, engine load status, etc. are displayed on the graphic meter screen with high visibility and design. 5 types of sensors to detect engine performance (Rotational speed, supply pressure, lubricating oil pressure, cooling water temperature, exhaust temperature)

It is possible to compare past fuel consumption with present data.

Based on the engine performance data detected in real time during navigation, the engine speed during land operation is compared with base data such as air supply pressure, etc., and the fuel consumption during navigation is estimated and displayed from the relationship between output and fuel consumption.

Data can be collected every second and about 10 years of data can be stored

It is possible to display the time for periodic inspections and parts replacement recommended by the manufacturer for each item.

Ship-to-land mobile communication enables real-time status monitoring while on land.

The 920MHz wireless communication unit enables short-range wireless communication of about 1km.